Boehringer Ingelheim reached out to bloggers like me to share our thoughts on FRONTLINE® Plus for Dogs and Cats. As a participant, I received compensation for my time. Boehringer Ingelheim did not tell me what to say about FRONTLINE Plus or my experience. Boehringer Ingelheim believes that consumers and bloggers are free to form their own opinions and share them in their own words. #PetApproved #CollectiveBias
Can Indoor Cats Get Fleas?
Can indoor cats get fleas? There was a time I would have answered this question with a resounding, "no way." However, five cats, two dogs, and twenty-five years of experience later, I now know better. Yes, indoor cats can get fleas.
When I was a broke college student living in Florida, I rented a room and shared it with my cat Missy. One day, I noticed that she was scratching more than normal and I chalked it up to a change in environment. A few weeks later, I started finding flea dirt on my bedding. Totally grossed out by the prospect of my indoor cat having fleas, I took her to the vet to get checked out (even though I couldn't afford it). The veterinarian told me that Missy had fleas and more than likely I was the one who gave them to her. Say what?! He explained that fleas often catch a ride on socks, shoes, or pant legs and that's how they are transported into the house. Once inside the house, the flea immediately searches for a nice warm body to munch on (like Missy).
To make matters worse, not only did Missy have fleas but she had an allergy to fleas which meant she needed an injection and a daily topical cream. I wanted to cry when I saw my bill totaled over $200. Thankfully the veterinarian allowed me to make monthly payments. Every time I made my payment I reminded myself how the whole ordeal could have been avoided if I'd just budgeted in an additional $10 for monthly flea treatment.
Hover over the image below and click to purchase FRONTLINE® Plus from Walmart.com.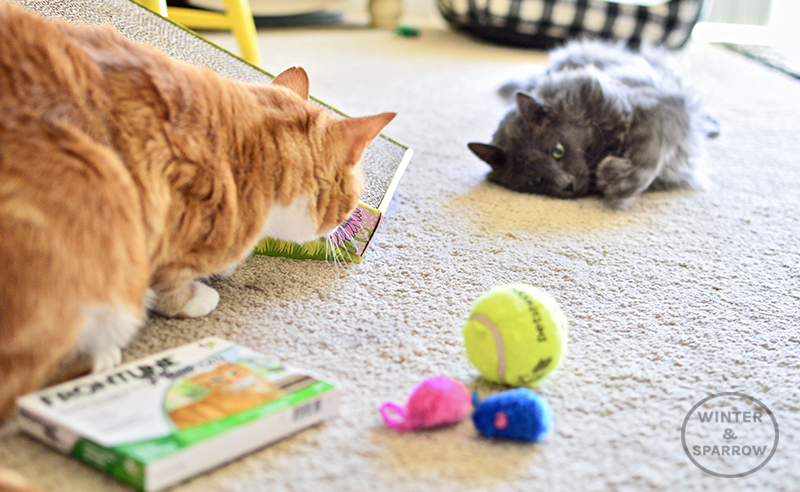 Since that experience, I have been on the ball when it comes to monthly flea and tick treatment. Spitfire, Bandit, Gracie, and Garfield (the cats) never go a month without flea and tick treatment. FRONTLINE® Plus for Cats Flea and Tick Treatment has been proven and trusted by veterinarians for more than 20 years so it's a brand I turn to again and again. It works for a full 30 days killing adult fleas and ticks and also slaying the next generation of flea eggs and larvae.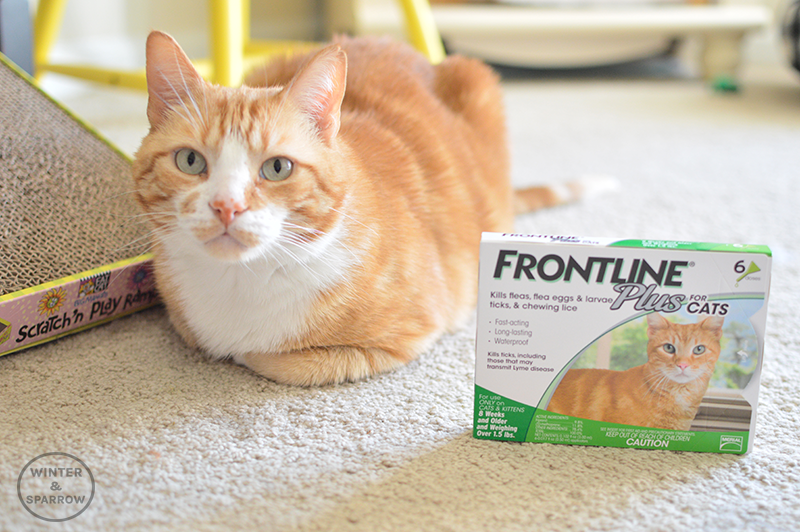 We're not only a multi-cat household, but we're also a multi-pet household too. Teddy (the dog) is the only pet that goes outside and that makes him the perfect transport system for fleas and ticks. If you're a multi-pet household like we are, please know that the dog can bring in fleas and ticks and share with the cats. Let's just say no to that scenario, okay? As a result, Teddy gets treated with FRONTLINE® Plus for Dogs Medium Dogs (23-44 lbs) Flea and Tick Treatment.
FRONTLINE Plus for Dogs can be used in puppies as early as eight weeks of age (dogs over 5 lbs), and FRONTLINE Plus for Cats can be used in kittens as early as eight weeks (over 1.5 lbs). Always make sure that you buy the proper product for the size of your dog for your dog by referencing his or her weight. Also, never use flea and tick treatment made for dogs on your cats.
Whatever product you need, you can find it online at Walmart.com. Look for the specially marked circular located at your store's front entrance.
It's important to note that before you use FRONTLINE® Plus brand products, you should read the package insert so you know how to properly apply FRONTLINE® Plus.
FRONTLINE® Plus is not a one and done flea and tick treatment. You'll need to reapply it every thirty days.
All of our pets get treated on the same day and we always mark our calendars so we know when they're due for their next application.
I like the peace of mind that FRONTLINE® Plus brand products provide to my household. Let's take a look at all of the benefits:
Kills fleas before they lay eggs.
Kills four of the most common species of ticks.
Two killer ingredients that work together all month long.
One ingredient to kill existing fleas and ticks; one ingredient to prevent flea eggs from hatching.
One ingredient to kill the fleas you see and one ingredient to prevent the fleas you don't see from developing.
Kills fleas, ticks, and chewing lice.
Approved for pregnant, breeding, and lactating pets.
Kills ticks, including those that may transmit Lyme Disease.
Provides fast-acting, long-lasting treatment, and control.
Now that you know that indoor cats can get fleas, I hope you consider treating all of your cats and dogs with FRONTLINE® Plus brand products. It's a great way to show your pets you love them all year long!