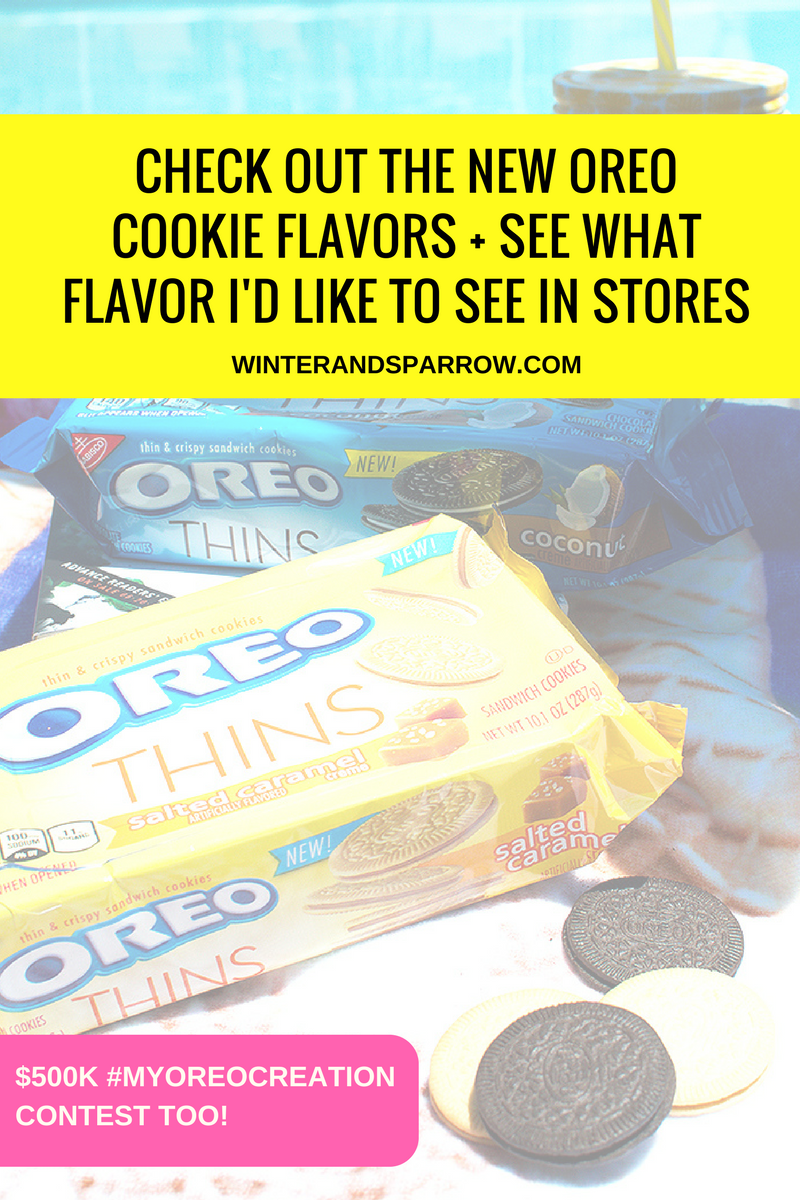 Check Out The New OREO Cookie Flavors + See What Flavor I'd Like To See In Stores
A few days before the Fourth of July, my husband and I headed to Walmart to stock up on some eats and treats for the holiday. We picked up the usual:  soda, water, chips, dip, ribs, etc., but then we realized we needed something a little sweet. When we got to the cookie aisle, we couldn't believe all the flavors that OREO® cookies now come in.
A few of the flavors we saw included birthday cake, cinnamon bun, mint, jelly donut, coconut, and salted caramel. How's a girl supposed to pick just one?
While I was trying to decide which flavor I wanted, my husband spotted Red Velvet OREO cookies. Red Velvet is one of his favorite flavors so you better believe that OREO package was in the cart within 15 seconds.
Ten minutes later (yes, it took me that long to decide) I opted for two flavors in new OREO Thins cookies:  coconut and salted caramel. I wanted something a bit tropical (coconut) and a personal favorite (salted caramel) for a trip to the pool.
While spending some time relaxing, I started to think about what OREO cookie flavor I'd want if I could create my own. Currently, OREO is having a #MYOREO Creation Contest where you can submit your own creation, flavor or inspiration and if your flavor is chosen, you win $500,000 plus you get to see your creation sold in stores.
Note:  No purchase is necessary to enter the contest. It's open to all 50 states in the US (plus Puerto Rico) for entrants 18 years or older. Your entry must be received by 07/14/17. Official Rules.
So…what flavor would I create?
When I was a kid, right before my birthday, my mother would always ask me what flavor of cake I wanted for my birthday. Apparently, my love for coffee started out early because I would always request a mocha cake. Every.single.year. No, I don't want chocolate. No, I don't want an ice cream cake. No, I don't want vanilla. I want a mocha cake. Mocha continues to be one of my top three cake flavors and whenever I have a slice, I can't help but reminisce about childhood. So, if I were submitting a flavor for the #MYOREO Creation Contest, it would definitely be mocha|mocha cake.
If you'd like to try all the new OREO cookie flavors available (including the new OREO Thins), head to Walmart and stock up. You can't beat their prices or selection!
If you had your choice, what flavor of OREO cookies would you like to see in stores?